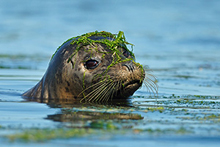 Sharon Osberg, three time WANT guest and talented photographer, is in the running to have one of her photos on the cover of the annual Elkhorn Slough Reserve calender. Got a second? Help her out by clicking here to vote via Facebook. Her photo is the decorated Harbor Seal. Good luck Sharon!

Also, don't forget, if you have a photo or article that mentions WANT Expeditions published in a news media format, we'll send you one of our awesome WANT logo safari shirts (retail value $48.00).

Looking to add some professional photos to your portfolio, check out the perfect opportunities in the upcoming Iceland Wildlife Expedition. You'll have the chance to photograph puffins, seals, whales, Arctic Fox and more!